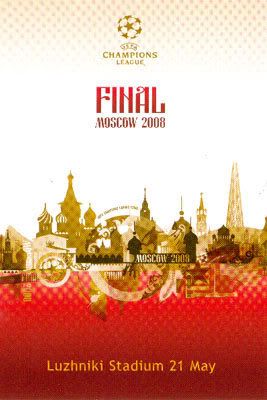 2007/2008 uefa champions league final moscow, may 21st, 2008
MANCHESTER UNITED vs CHELSEA
_____________________________________________________
ughh sumpah ya, gw, ntn t final smp extra time 2 abis, merinding trus!
kedudukan berakhir 1 - 1 (man : ronaldo 26', che : lampard 45')
mana chelsea nyerang mulu! klimaksnya, drogba krtu merah, 5 menit sblm extra time 2 abis.
akhirnya keputusan siapakah juara champion musim ini ditentukan oleh drama penalty.
seriously, pas ronaldo gagal penalty td gw nyaris putus asa n nangis!
tp kedudukan berbalik pas terry jg gagal!
dgn rasa masih tegang gw berharap chelsea gagal sekali lgy dan itu dikabulkan saat tendangan anelka dapat ditepis van der sar!
then jawabannya : we have our winner! MANCHESTER UNITED won 6 - 5 on penalties!
die meister, die besten, les grandes equipes, THE CHAMPION! glory glory man united! double winners! no time for loser!
sumpah pas ngeliatt smw pemaen lari ke arah van der sar, gw lgs nangis! akhirnya berakhirlah penantian 9 thn itu :)
c ronaldo sukses ngawinin top skorer n medali UCL n EPL! salutt!
pokoke ni thn sukses MU dah!